I did not have to think about this long. I actually have TWO favorite books that I read in the month of June.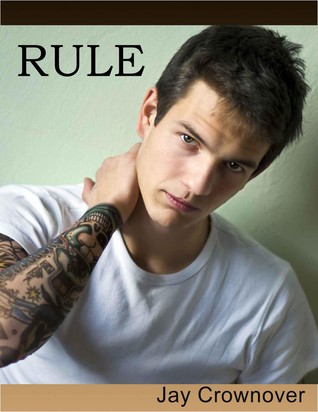 Rule
Jay Crownover
Opposites in every way . . . except the one that matters
Shaw Landon loved Rule Archer from the moment she laid eyes on him. Rule is everything a straight--A pre-med student like Shaw shouldn't want--and the only person she's never tried to please. She isn't afraid of his scary piercings and tattoos or his wild attitude. Though she knows that Rule is wrong for her, her heart just won't listen.
To a rebel like Rule Archer, Shaw Landon is a stuck-up, perfect princess-and his dead twin brother's girl. She lives by other people's rules; he makes his own. He doesn't have time for a good girl like Shaw-even if she's the only one who can see the person he truly is.
But a short skirt, too many birthday cocktails, and spilled secrets lead to a night neither can forget. Now, Shaw and Rule have to figure out how a girl like her and a guy like him are supposed to be together without destroying their love . . . or each other.
Who doesn't love the story of the tattooed bad boy who falls in love with the good girl! This book was amazing.
Fallen Too Far
Abbi Glines
She is only nineteen.
She is his new stepfather's daughter.
She is still naïve and innocent due to spending the last three years taking care of her sick mother.
But for twenty-four year old Rush Finlay, she is the only thing that has ever been off limits. His famous father's guilt money, his mother's desperation to win his love, and his charm are the three reasons he has never been told no.
Blaire Wynn left her small farmhouse in Alabama, after her mother passed away, to move in with her father and his new wife in their sprawling beach house along the Florida gulf coast. She isn't prepared for the lifestyle change and she knows she'll never fit into this world. Then there is her sexy stepbrother who her father leaves her with for the summer while he runs off to Paris with his wife. Rush is as spoiled as he is gorgeous. He is also getting under her skin. She knows he is anything but good for her and that he'll never be faithful to anyone. He is jaded and has secrets Blaire knows she may never uncover but even knowing all of that…
Blaire just may have fallen too far.
Why have I never read a book by Abbi Glines!?! I have all of her books on my Kindle and kept putting off reading them. This is also a story of the bad boy who falls in love with the good girl. I see a pattern here with my books.
Have you read either of the books I have chosen? Comment and let me know some of your favorite June reads.